To Our Valued Customers
Posted on Mon May 21st, 2018 at 11:00 am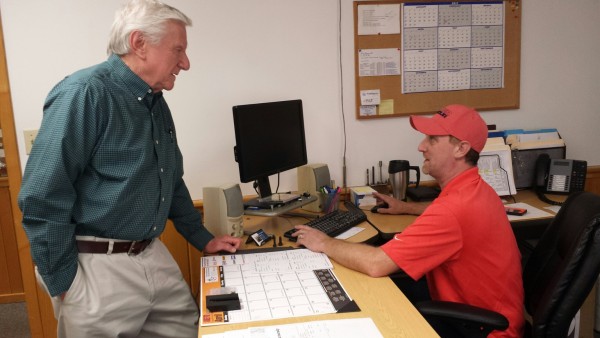 (Owner and Founder, Gary Ginther (left) and General Manager, Jason Hose (right)
Since "1974" Deane Systems has strived to become the industry leader in step lift fastener feed and drive automation systems.  We value the opportunity to provide a high-quality solution to meet our customers' needs.  Ingenuity, creativity, and quality have sustained us through this time and we hope to carry on the quality and service that makes our machines your preferred choice in all your assembly needs.  We have undergone many changes throughout our years in business, but one thing remains unwavering, our commitment to our customers. 
The secret to Deane System's success came from opening our ears and closing our mouths to the people who work in assembly.  It is from there we took all the shortcomings of current systems, and with input from hard working men and women created a simple, reliable product that remains a top selling product to this day.
We proudly offer a full line of step-lift feeders, drivers, diverters, pre-feed systems, receivers, pin and rivet inserters, as well as full selection of OEM and non-OEM spare parts to keep your cribs full and your lines running at full capacity.  Whether it be a full system with multiple feeders and drivers or a single spring or screw, our sales team is ready to meet your needs.  Our top priority is keeping your system online.  We are consistently improving processes to ensure shorter lead times and a high level of quality. 
In addition to our complete line of assembly systems, we stock a full range of spare parts to meet your MRO needs.  Our OEM parts are custom machined by highly skilled tool makers in our Grayling, MI facility.  We also stock a full selection of non-OEM components as well as a full line of custom extruded feed tubing.  From sensors connectivity to seal and spring kits, or any other component to keep your system online, we are there meet your needs.