Sockets, Extensions, & Bit Holders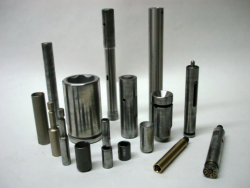 Sockets, Extensions, & Bit Holders
Deane Systems manufactures a wide variety of sockets, extensions, bit holders for various fastening and assembly placement applications. From specials to standards our sockets have proven themselves to be robust, efficient and cost effective.
Features
–
Options
Wide range of materials from A-2, S-7, 11 L 17, H-13, 1018 and L-6 is used depending on the application or customer's preference.

We profile machine the sockets on our cnc mills with a small radius in each corner which reduces cracking or breaks when the socket is under torque during the assembly process.

Spring loaded probe

–

to spear and locate nuts onto studs Magnetic insert to capture head of screw or bolt

Thread on style

1⁄4" 3/8" 1⁄2" 3⁄4" square drive or special drive adapter

Torx drive

Plain hex drive

Surface drive

Vacuum style

Bits holders

–

to accommodate various sizes of Torx, Phillips, hex, Allen, etc. Extensions lengths

–

are dependent on customer application.

All sockets

–

holders and extensions heat treated

Nickel plating of components optional

Spring loaded extension assemblies for multiple spindle bolt rundowns.